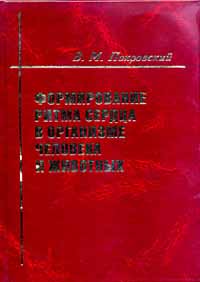 УДК 612.172.2-092
ББК 28.903
P48
Vladimir M. Pokrovskii. HEART RHYTHM FORMATION IN THE HUMAN AND ANIMAL ORGANISM.
Krasnodar Izdatelstvo Kuban-Kniga, 2007. — 144 p., pics.
ISBN 978-5-91053-009-0
The system reveals scientific facts showing that the heart rhythm in an organism is formed by the hierarchy of mechanisms including brain and intracardiac levels. In an organism the heart rhythm is formed in brain signals of which get to the heart along the vagus nerves in the form of bursts of impulses. The heart reproduces the rhythm of theses signals. Under such conditions the sinoatrial node acts as a latent pacemaker. The integration of two levels of rhythmogenesis provides reliability and functional perfection of the cardiac rhythm generation system. The central generator provides the heart's adaptive reactions under normal conditions. The intracardiac generator assures the pump function of the heart when the central nervous system is in the stage of deep inhibition. ...read...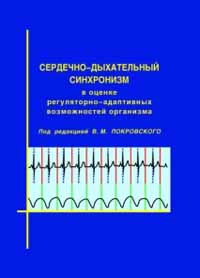 УДК 612.172.2+612.216
ББК 28.706
С 32
CARDIORESPIRATORY SYNCHRONISM
used for estimation of regulatory-adaptive possibilities of organism
Edited by prof. Vladimir M. POKROVSKY
This book presents the stages of discovery and formation of cardiorespiratory synchronism phenomenon as method of the objective quantitative estimation of the regulatory-adaptive status of human organism.
Possibilities of this method based on the quantitative account of the interaction of two major vegetative functions - respiratory and cardiac are shown. The informative value of this method in estimation of the regulatory-adaptive status in a number of functional conditions and diseases is shown.
Method possibility to promote forecast of development of some human organism states is established; the idea of the quantitative characteristic of the regulatory-adaptive status of organism with a view of more widely practical use of this method is developed.